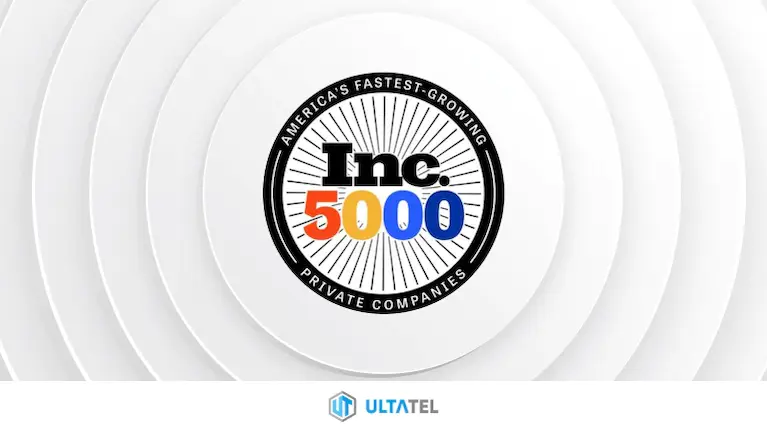 Herndon, VA – Today, ULTATEL, a leading communication solutions provider, is thrilled to announce its recognition as one of the fastest-growing private companies in America, having secured a spot on the esteemed Inc. 5000 list.

This inclusion is a testament to the hard work, dedication, and passion shown by every member of the ULTATEL team. Over the past few years, our commitment to building a simple yet robust communications platform to enable small to enterprise businesses to bring all conversations – voice, text, video, email, fax, and meetings, into a single accessible interface has fueled our rapid growth and the development of meaningful relationships with our clients and partners.

"Being recognized by Inc. 5000 is not just an achievement for our company but a celebration of the unwavering commitment of our team and the trust of our customers,' said Amr Ibrahim, the CEO & Founder of ULTATEL. "This honor propels us further in our mission to simplify the noise, making sure every message, every voice, and every video reaches its destination with clarity."
 
The Inc. 5000 list, produced annually by Inc. Magazine, is an exclusive ranking of the nation's fastest-growing private companies. Being part of this list places ULTATEL alongside previous honorees like Intuit, Zappos, Under Armour, Microsoft, Patagonia, and many other well-known companies that gained national exposure as honorees on the Inc. 5000.
 
Ultatel wishes to express deep gratitude to our dedicated employees, loyal customers, and everyone who has supported our journey. We are excited about the future and remain committed to continuous growth, innovation, and delivering unparalleled value.

By the way, try out relaxing at the best online casino games from the comfort of home. Hundreds of free casino games are waiting for you from top providers: igt slots, endorphina, playson and more!

For more details about ULTATEL or to schedule an interview, contact Stephen Carroll, Head of Marketing, at 571-832-2646 or stephen.carroll@ultatel.com.

About ULTATEL

ULTATEL is a leading provider of cloud-based business communications systems, offering a comprehensive and affordable platform that unifies voice, video, fax, SMS, and video conferencing services. With its scalable platform, designed for businesses of all sizes, ULTATEL continues to be at the forefront of revolutionizing how organizations communicate and collaborate with a strong focus on customer satisfaction, seamless integration, and innovative technology. For more information, visit www.ultatel.com.